2020.10.10 Sat CAVALIER MUSIC EVENT at CAVALIER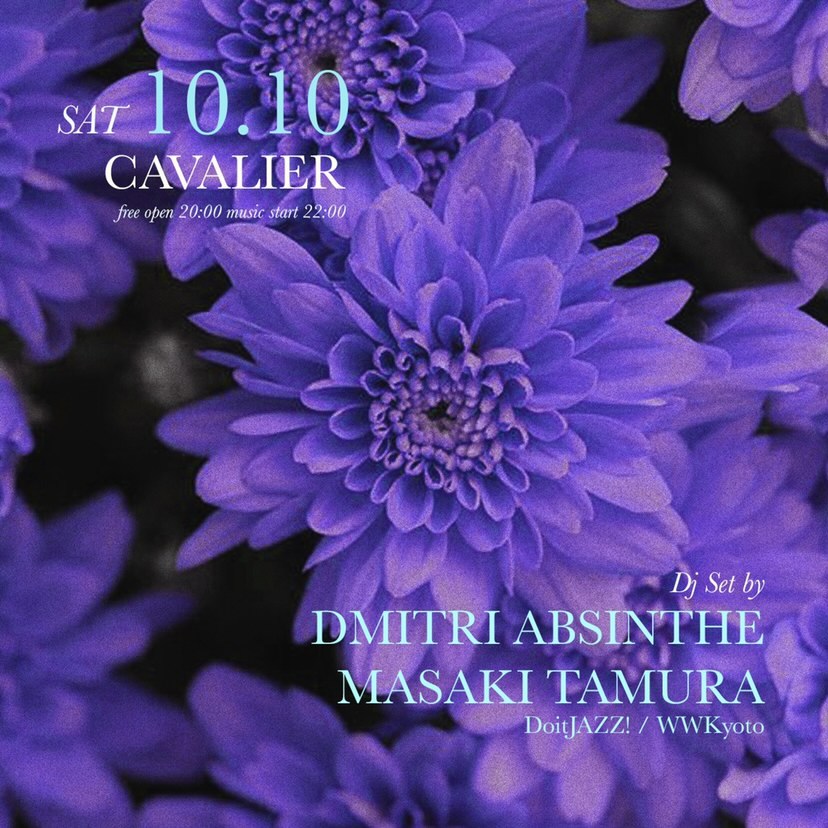 CAVALIER MUSIC EVENT
10.10 SAT Open 20:00 Starts 22:00 free 1 drink order
.dj sets by: DMITRI ABSINTHE + MASAKI TAMURA (DoitJAZZ! / WWKyoto)
DMITRI ABSINTHE. @dmitriabsinthe
カフェアブサンのオーナーでもあるディミトリはロシア生まれ。彼のDJ経歴は2003年の来日まで住んでいたイスラエルの17年前に始まります。ソールとファンクからディスコやハウスとテクノまで、彼のプレイスタイルは幅広く、John Digweed, Darren Emerson, Ritchie Hawtin, Mark Knight, Dave Seaman, Patrick Topping, Prok & Fitch, M.A.N.D.Y, Mathias Kaden, Nick Curly, Audiojack, Steve Bug など、Top DJたちとも競演してきました。
Dmitri, the owner of renowned Cafe Absinthe in Osaka was born in Russia. His DJ career started 20 years ago in Tel Aviv, where he lived before coming to Japan in 2003. In his sets he combines various musical genres focusing on Deep and Hypnotic Groove. He regularly plays at Osaka clubs Circus, Joule, Rock Star Hotel, etc.. Dmitri has played with such Djs as Sasha, John Digweed, Darren Emerson, Ritchie Hawtin, Mark Knight, Patrick Topping, M.A.N.D.Y, Prok & Fitch, Jamie Jones, Steve Bug, Mathias Kaden, Nick Curly, Audiojack to name a few…
MASAKI TAMURA. (DoitJAZZ! / WWKyoto) @doitjazz
DJ / 一級建築士。
JAZZ / CROSSOVERイベント"Do it JAZZ!"を主宰し、HUGO LX、Aroop Royを招待、Degoやfloating pointのサポートを務める。ホテル・ラウンジの音楽設計・サウンドサポートも行う等、京都・大阪・東京を中心に活躍。Gilles Petersonがスタートしたオンライン・ラジオステーション"Worldwide FM"の 京都サテライト"WW KYOTO"のDJを務め毎月第二月曜日に発信中。
DoitJAZZ! WEB : http://www.doitjazz.jp/
Soundcloud : https://soundcloud.com/doitjazz
Masaki Tamura
DJ / First Class Architect.
He runs the JAZZ / CROSSOVER event "Do it JAZZ!", inviting HUGO LX and Aroop Roy, and supporting Dego and floating point. He also does music design and sound support for hotels and lounges, and is active in Kyoto, Osaka and Tokyo.
Gilles Peterson's online radio station "Worldwide FM" has a Kyoto satellite "WW KYOTO", which is broadcasted every second Monday of the month.