ONE DJ ONE NIGHT -vol.4 DJ Masaki Tamura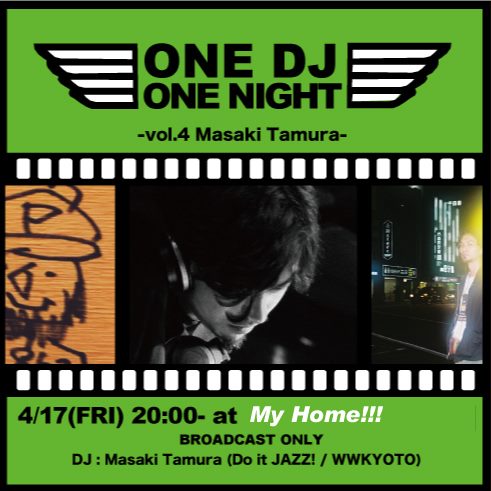 Covid-19の影響で日程延期となっていた"ONE DJ ONE NIGHT"、
Kyoto Metroの無観客配信企画"METRO Streaming"にて配信を予定しておりましたが、
4月17日に発表された「緊急事態宣言」全国に拡大の表明を受け中止せざるを得ない状況となりました。
しかし止めない。
急遽"DoitJAZZ!"のサイトにて自宅から配信する事に致しました。 Kyoto Metro への支援、恐縮ながら DoitJAZZ_KYOTO への寄付のリンクも貼らせて頂きました。
一人でどこまで出来るかわかりませんが、この状況での音楽の楽しみ方の一つになれればと思いますので、是非よろしくお願いいたします。
Due to Covid-19, Kyoto METRO's "ONE DJ ONE NIGHT" had been postponed, but was scheduled to be streamed at Kyoto METRO's "METRO Streaming", a non-candidate event.
However, due to the "state of emergency" announced on April 17, the event had to be cancelled, and we've decided to stream it from our home on the DoitJAZZ!
I hope this will be one of the ways to enjoy music in this situation, and I hope you'll enjoy it.
// DoitJAZZ! Streaming //
http://doitjazz.jp/streaming